Fucoidan Force®: Why It Is Your Best Choice?
FUCOIDAN FORCE®
Do you know what's in your fucoidan?
Over 1,400 published studies show fucoidan's potential beneficial qualities on health, if you use the right fucoidan
No whole-body health regimen would be complete without Fucoidan, a remarkable seaweed extract that is rapidly gaining in popularity because of the intense interest it's generating among health seekers and researchers in the Health & Science community alike.
Fucoidan's potential beneficial qualities on health have been shown in approximately 1,400 studies, now on the U.S. National Library of Medicine. And many of these studies were done in recent times, illustrating the growing fascination with fucoidan's capabilities. But knowing which supplement is more likely to produce reliable results can seem complex and intimidating.
What Makes Fucoidan Force® So Effective?
Types of seaweeds used: Its primary ingredient is fucoidan extracted from the wakame/mekabu (Undaria pinnatifida) seaweed. It is also the same seaweed used in the diet of the Okinawan people who live exceptionally long healthy lives and boast the world's highest concentration of centenarians (people living more than 100 years).
A powerful, well-balanced, triple-action formula: By adding a high molecular weight fucoidan derived from Sea Kelp (Fucus vesiculosus) which also shows its potential beneficial qualities on health in several studies published in Pubmed's scientific literature, you are now able to get all the fucoidan energy in a single bottle.
And finally, to make it even more unbeatable its force and power are increased even further with Reishi mushroom (Ganoderma lucidum) extract, a polysaccharide-packed nutritional powerhouse ingredient with over 800 published studies.
With its unique combination of ingredients, Fucoidan Force® represents a true breakthrough in the world of fucoidan supplements.
Sourcing & Harvesting:
The first mistake choosing the right fucoidan supplement often starts here.
Growing concerns about oceanic pollutants around Asia-Pacific regions, the place of origin of most fucoidan supplements, makes this a very significant issue. Fortunately, out of an abundance of care and caution Fucoidan Force® only uses seaweeds sustainably harvested by hand from the clean, pristine waters of the Canadian coastline and the Atlantic Ocean.
Extraction & Manufacturing Methods:
Due to the fragile nature of the seaweed algae, it is critically important that proper handling begins with this second step.
Not all Fucoidan are Created Equally
The second most important thing is the type of extraction method used because traditional extraction methods involving the use of heat, solvents or chemicals can easily compromise and destroy the integrity of the end-product. That is why in contrast to other manufacturers, Fucoidan Force® uses a patented solvent-free process that yields a nature-identical extract to make a Certified Organic ingredient of exceptional quality.
Typical concerns about fucoidan are is it:
1. of Chinese origin?
2. derived from species not well studied?
3. extracted using heat, chemicals or solvents?
4. obtained from a single seaweed source
5. from machine-harvested seaweed?
6. from farmed seaweed?
7. from contaminated waters?
8. high in iodine content?
9. high in sodium content?
10. certified organic?
11. fairly priced?
12. measurable, standardized & validated by HPLC gold standard?
You can rest assured knowing that Fucoidan Force® uses:
– No seaweed extracts of Chinese origin
– A patented cold water extraction technique
– Extracts obtained from two separate seaweeds sources
– Wild hand-harvested seaweeds
– Seaweeds grown in clean, pristine waters only
– Extract comparatively low in sodium and iodine
– 100% Certified Organic seaweed extracts
– An easily measurable, precise, HPLC strength standardized extract
Did you know that without this last critical bit of information, you have NO clue how much fucoidan you're genuinely getting?
Fucoidan Force® also:
– Uses unique processing methods to ensure the extract's delicate constituents remain intact
– Uses a combination of standardized concentrations of three potent ingredients, including Reishi mushroom extract to deliver maximum nutritional benefits
– Gives you the best bang for the buck!
Avoid Contaminated Fucoidan
Following the events of the terrible Japanese earthquake and tsunami of 2011 that caused Fukushima nuclear reactors to start daily dumping of highly radioactive water into the Pacific Ocean, as a precaution we never source from that part of the world. Also due to qualitative concerns, we do not use any Chinese-sourced fucoidan. Instead we source ours only from seaweed harvested from the pristine waters of the Atlantic.
A second more recent powerful 7.4 magnitude earthquake and tsunami that struck the same Japanese coastline on November 21st, 2016 further heightens concerns about supplements from these regions.
If you are looking for a safe, effective and well-researched seaweed supplement, you've found it in Fucoidan Force®!
To help accommodate your needs, we continue to offer very generous purchase options. From "Buy 2 Get 1 Free" up to "Buy 16 Get 8 bottles Free". Plus, we also continue to give Free Shipping within the mainland US.
Fucoidan Force® for Better Health Benefits!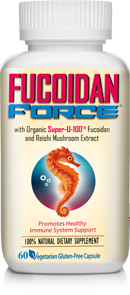 Regular Price: $89
60 Capsules per Bottle
60-Day Money Back Guarantee
FREE Delivery on Standard Domestic Orders Over $50
Made With Real Fucoidan You Can Trust:
 100% USDA Organic Certified Fucoidan!
Fortified With Powerful Reishi Mushroom Extract!
Wild Hand-Harvested Atlantic Wakame!
Water Extraction Method Preserves Delicate Molecular Structure!
Scientifically advanced Processes Ensure Critical Nutritional Benefits Delivery!
Thoroughly Tested Ingredients!
The Ocean-To-Bottle Process
Due to the delicate nature of the seaweed's bioactive constituents, extreme handling care is essential from start to finish. That is why once the seaweed comes to shore the best plants and their parts are further sorted and selected again by human hands instead of machinery.
Whatever your reason for choosing Fucoidan Force® as part of your daily health regimen, you can rest assured knowing you've made an excellent choice, that there is real hope and you can find it here.
Fucoidan & Reishi Research
There is no shortage of research into the capabilities of fucoidan and Reishi mushroom. In fact, last check, there were more than 1,400 published studies and over 800 reishi research studies on the U.S. National Library of Medicine. Only measurable standardized extracts known to have the unique properties mentioned in a vast majority of the published studies are used to make this supplement. Learn more about all the potential benefits of the seaweed extract used to make Fucoidan Force® directly from the U.S. National Institutes of Health.


Choose Wisely?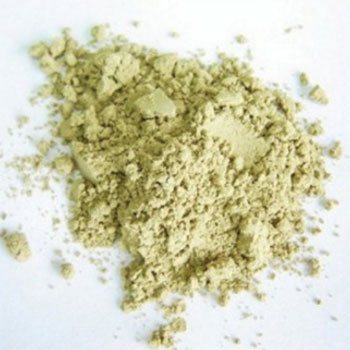 Fucoidan is a complex polysaccharide made up of fucose and other important elements that may modulate healthy immune system function as well as increase your body's overall health and well-being. It exists in different kinds of brown seaweed – which are put through different extraction and manufacturing processes to make a wide range of products with varying levels of efficacy and usefulness. In other words, some can be a total waste of time while some can be the exact opposite, and among those Fucoidan Force® stands alone!
Fucoidan FAQs
Atlantic Wakame (Undaria pinnatifida)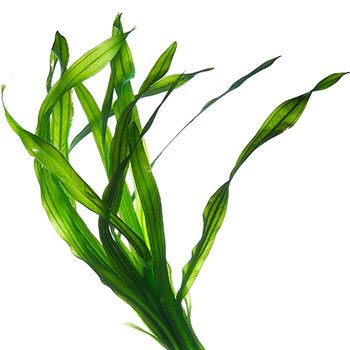 Made from organic wakame seaweed grown in the pristine waters of the Atlantic Ocean.
Fucoidan Facts